Industry Insider Featured Presenters for 2016
Please welcome this year's Featured Presenters for Gen Con's Industry Insider Program!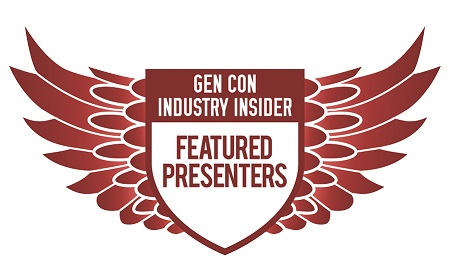 Featured Presenters are as diverse as the program itself and will be sharing their expertise, experience, and adventures with you as they host seminars and participate in panels about all things gaming related.
Meet our 2016 Industry Insider Feature Presenters ...
Guests are subject to change.

Pictures will continue to be added as we receive them.
---
Emily Care Boss of Black & Green Games is an independent role-playing game designer & publisher living in western Massachusetts, USA. Her designs include Breaking the Ice, Shooting the Moon, and Under my Skin, now collected as the Romance Trilogy.
An early participant at the Forge forums and a proponent of independent publishing, Emily founded JiffyCon in 2006, a regional role playing game convention showcasing independent and small press games. She has done design, fiction and setting work for Pelgrane Press, Evil Hat Productions, Ginger Goat, Cubicle 7 and others. She edited the RPG - Role Playing Girl Zine and has written articles on RPG design and theory in the WyrdCon Companion and other collections.
You can find Emily's games and other work at blackgreengames.com.
---
Brian Cortijo has been a freelance game designer for more than a decade, working primarily on Pathfinder and Dungeons & Dragons with more than 40 books, magazines, and web articles to his credit. In addition to his design work, Brian is a long-time loremaster for the Forgotten Realms, assisting fellow designers and novelists with the history and development of the world.
---
Katherine Cross is a gaming critic and Gamasutra columnist whose work has appeared in Kotaku, Polygon, Offworld, Paste, and elsewhere, who's written about tabletop and video gaming at length since she was a writer for the queer/feminist gaming blog The Border House. She is also a Ph.D student in sociology at the CUNY Graduate Center who studies antisocial behavior online and identity formation in virtual worlds. Her first peer-reviewed academic article was about pen and paper roleplaying games and how they helped players grapple with new and uncomfortable ideas. She has also spent much of her young career analyzing video games through an academic lens and promoting them to skeptical, multi-generational audiences as powerfully creative tools.
---
Crystal Frasier is a writer, game developer, and graphic designer with eighteen years experience, best known for her work on the Pathfinder line of roleplaying games and adventures. She strives to make game worlds where everyone can see themselves reflected. She is a survivor of both the Art Institute of Seattle and New College of Florida, and pulls heavy inspiration for her work from European, Central American, and African history as well as the works of L. Frank Baum and Lewis Carroll.
In her free time, Crystal reads comics, plays with her dog, and obsessively re-watches old cartoons from the '80s and '90s.
---
Amanda Hamon Kunz is a Pathfinder RPG staff developer and freelance contributor at Paizo, Inc. She is also an award-winning freelance game designer, developer, and editor whose work has been featured by third-party publishers such as Hammerdog Games, Kobold Press, Legendary Games, and Mechanical Muse. Amanda has worked on numerous high-profile projects, including Kobold Press's ENnie-winning Deep Magic, for which she served as lead developer and editor.
Her professional interests include inclusive gaming, the intersection of feminism and games, and diverse world-building. She lives in Redmond, Washington, and can be found on Twitter @amandahamon.
---
Multiple ENnie and Origins Award winner Kenneth Hite has designed or co-authored over eighty roleplaying games and supplements including two STAR TREK RPGs, GURPS HORROR and INFINITE EARTHS, TRAIL OF CTHULHU, NIGHT'S BLACK AGENTS, BOOK-HOUNDS OF LONDON, and THE DRACULA DOSSIER. He has also written four Cthulhu Mythos children's books, THE NAZI OCCULT for Osprey Publishing, and several short stories. The co-host of the KEN AND ROBIN TALK ABOUT STUFF podcast, he lives in Chicago with his wife Sheila and cat Virgil.
---
Language is Kathryn Hymes' muse and as 50% of the indie studio Thorny Games, she's been spreading her love of that topic as a game designer of RPG and LARP. With Thorny Games, Kathryn aims to give players tools to tell stories in unorthodox and original settings from voices that may have otherwise been unheard. She seeks to actively avoid RPG tropes in order to make the hobby more approachable to new enthusiastic faces.
Educated in math and computational linguistics from Stanford, Kathryn is an active voice in the Indie RPG community. She is a regular organizer of Indie RPG meet-ups and playtest events in the Bay Area, helping to spread the hobby. In concert with her design work, Kathryn builds technology as a product manager in Silicon Valley and is constantly bringing new tools from her professional life into game development. She brings learning from social media from her time at Facebook, gamification from Foursquare and international empathy and growth strategy from her position at Nextdoor.
---
For her eighth Christmas, Renee received the Mentzer red box from her grandmother. (best grandma ever!) Not quite able to puzzle out the rules on her own, but fascinated nonetheless, she immediately began designing her own dungeony games ... and never stopped. Today she's an award-winning game designer, freelance writer, and assistant developer with Jeff Tidball's Left Justified LLC. She's worked with Adept Press, Onyx Path, Left Justified Press, Atlas Games, Gameplaywright, Bully Pulpit, Genesis of Legend, and others. She's also a founding member and co-administrator for the ENnie-nominated Gaming As Women website.
---
Anna Kreider is a game designer and publisher of indie tabletop roleplaying games. She has published a number of her own games, but has also freelanced for major publishing companies like Green Ronin and Onyx Path. She is also an illustrator and the author of the popular feminist gaming blog Go Make Me a Sandwich which has received more than 2 million views and currently has more than 90 supporting patrons through Patreon. Through her blog, she has been able to pursue her passion of advocating for increased diversity in the games industry.
---
Christopher Lawrence is deeply passionate about games, so much so that he once demonstrated Dance Dance Revolution at a secret government conference. For nearly two decades, he has developed innovative and entertaining games and simulations, providing creative services for commercial and government organizations.
Christopher got his professional start at the venerable Avalon Hill Game Company, developing titles such as the RuneQuest: Slayers role-playing game and scenarios for the motion picture-based boardgame Starship Troopers. Moving into video games as lead designer at Pandemic Studios, he spearheaded development of the real-time strategy game Dark Reign 2 and designed the US Army version of Full Spectrum Warrior.
In 2001, Christopher founded Stranger Entertainment, producing award-winning education and entertainment games for partners such as Mattel, Inc., the University of Southern California's Institute for Creative Technologies, the Defense Advanced Research Projects Agency, the United States Army, and the California Science Center. He is currently working with LOARZ Digital Entertainment Technology, developing the next frontier of entertainment.
Christopher lives in sunny Los Angeles with his fabulous wife Jennifer and their two amazing children. For more on his work, visit strangerentertainment.com.
---
Ryan Miller has been in the gaming industry for over 14 years, working his way up from retail to Wizards of the Coast R&D. His game design career began in 2001 with the founding of Sabertooth games, where he co-designed the Warhammer 40,000 and Warcry CCGs. In his ten years at Wizards, he's worked on Magic: the Gathering, Duel Masters, Kaijudo, Axis & Allies, Dungeons & Dragons, and several other games. He's also been performing improv comedy for the past 22 years with companies such as ComedySportz and Jet City Improv.
---
Joshua Morris has been working with licensed properties in the games industry for over a decade. His tabletop credits include work on games based on Street Fighter, Mortal Kombat, Sonic the Hedgehog, Inu Yasha, Bleach and Dragon Ball Z with Score Entertainment.
An expert in social media and community management, Morris currently works as an online content manager for a major cable TV network client.
---
Harrison Pink entered the game industry in 2008 at the boutique game studio Thrust Interactive in Atlanta, GA. In 2011, he joined Telltale Games, working on the acclaimed The Walking Dead Game, winner of over 90 Game of the Year awards. He then worked on the DLC episode "400 Days" as well as Season Two of The Walking Dead Game. Harrison co-created and led the initial concept design for Tales from the Borderlands before accepting a position at Hangar 13 Games where he is currently working on the AAA open-world title, Mafia 3.
---
Brian Poel is the Director of Operations for Harebrained Schemes, video game developer of Shadowrun Returns and the upcoming BattleTech and creator of the Origins Award winning Golem Arcana, a digitally enhanced tabletop miniatures game. Over Brian's tenure at HBS, he managed fulfillment and logistics for multiple Kickstarter campaigns, including three projects of over 30,000 backers. For Golem Arcana, Brian learned the opportunities and perils of hybridizing board games with companion apps, contributing to both design and manufacturing.
In previous tours of duty in the industry, Brian was Business Manager for Wizards of the Coast's D&D Insider for 4th Edition, Financial Analyst at Xbox, and Operations Manager for iPlay Games.
---
Marie Poole is the CEO of Lone Shark Games. She has coupled her business acumen with a passion for gaming and the community in which it thrives. Marie can often be found at one of her FLGS gaming with her friends. Her passions in the industry include: finding ways to reduce our carbon footprint in game production and creating an inclusive safe environment for all folks.
---
Jessica Price has worked in video games, alternate reality games/transmedia entertainment, and tabletop roleplaying games as a writer, editor, game designer and producer on everything from MMOs to Xbox titles to games involving a lot of dice. After helping create the Kinect launch portfolio as a writer/editor at Microsoft Studios, she moved to Paizo Publishing, where she is the project manager for the Pathfinder Roleplaying Game. In addition to keeping Paizo's production processes running smoothly, she has been the lead developer on major Pathfinder releases such as the Strategy Guide, Inner Sea Gods, and Inner Sea Races, and an author for the Pathfinder Campaign Setting line.
---
Donna "Danicia" Prior is the Sparkly Princess of Social Media & Community Management in the video game industry. She is the Events Manager for Green Ronin Publishing and is the Executive Director of OrcaCon, the Inclusive Analog Games Convention in Everett, WA.
Donna is on the Community Management Advisory Board at the Game Developers Conference. She has spoken about building communities, diversity, harassment, and accessibility at the Game Developers Conference, numerous times at PAX/PAXDev, Gen Con, Mensa Annual Gathering, NorWesCon, and the Community Manager Conference in Leipzig, Germany.
Donna is a gamer and a beer geek, often combining both hobbies while teaching new people to game and appreciate beer. She also insists she is NOT a Hobbit.
You can follow Donna on Twitter: @_Danicia_. Find her also on http://about.me/Danicia
---
Alex Roberts is a writer, podcaster, and intrepid reporter in the wide world of roleplaying games. She produces and hosts the acclaimed interview show Backstory on the ONE SHOT podcast network, and is a former host of the design & theory podcast The Tabletop Superhighway.
She does freelance writing for sites like Tribality and Storycade, and game publishers Genesis of Legend and Paracosm Press. You may also have heard her on panels at various conventions, mostly talking about sex. She does that a lot. Keep up with her exciting life at www.helloalexroberts.com.
---
Editor-in-chief at Paizo Inc. and co-creator of the Pathfinder Roleplaying Game, F. Wesley Schneider is the author of dozens of Pathfinder and Dungeons & Dragons products. Aside from having passionate opinions about horror, world-building, and storytelling, he's spoken at length on inclusivity and GLBTQ topics in gaming.
His first novel, Bloodbound, was recently released from Tor, while his next major gaming works, Path of the Hellknight and In Search of Sanity, debut in 2016 from Paizo Inc.
You can follow Wes at wesschneider.com or on Twitter at @FWesSchneider.
---
Hakan Seyalioglu is one half of Thorny Games, an independent design studio of LARP and RPG focusing on telling new and unconventional stories. In his game design, he's deeply explored what language means for us culturally and emotionally, and how it can be an engaging mechanic for play.
Trained as a mathematician (PhD UCLA), Hakan brings both an analytical and abstract toolkit to game design. As part of his day job, he's provided mobile game developers across the world with tools to make their games social and engaging as the technical lead for a gaming application (Google Play Games) with over a billion installs.
More info on Hakan's work can be found at www.thornygames.com.
---
Zachary Strebeck is a California game lawyer in the board game, video game, and mobile app industries. He represents a number of new and established board game developers, including Stonemaier Games, Genius Games, and Irrational Ventures. Zachary is a contributor to The Dice Tower podcast, Gamasutra, and has been interviewed by the San Francisco Chronicle, the Wall Street Journal and other media outlets on board game and crowdfunding issues. Zachary is also the host of the Legal Moves podcast and runs the Game Lawyer Blog.
---
Elisa Teague is a game and event designer for Lone Shark Games and has been in the game industry for 16 years. Formerly a game designer and Senior Director of Product Development at Playroom Entertainment, her expertise is focused in game design and development, game pitch readiness, art direction, and production, contributing these skills to over 100 game SKUs on the market. Her hit game "Geek Out!" was recently featured on TableTop, with 4 different editions in the marketplace.
Elisa is the author of the book "Girls on Games: A Look at the Fairer Side of the Tabletop Industry" which she collaborated with other female game industry professionals, and she regularly speaks on a traveling convention panel titled "All Shapes and Sizes Welcome" which focuses on body image and women's issues in the game and entertainment industry.
---
Mark Diaz Truman is an award-winning indie game designer, editor, and community organizer. He is a co-founder of Magpie Games (Urban Shadows, Epyllion, Masks), co-founder and Treasurer of the Indie Game Development Network, business manger for John Wick Presents (7th Sea), and lead organizer for Indie+, an online community for indie games.
Over the past five years, Mark has been involved in every aspect of RPG production for projects large and small; everything from designing indie tabletop games to overseeing entire lines of traditional RPG products.
---
Monica Valentinelli writes stories, games, essays, and comics for media/tie-in properties and her original works from her studio in the Midwest. She's a former musician of 20+ years and a graduate of the University of Wisconsin-Madison's Creative Writing program who now writes full-time.
Recently, Monica has filled the shoes of lead developer and writer for the line of Firefly RPG books based on the Firefly TV show by Joss Whedon, and her new book The Gorramn Shiniest Dictionary and Language Guide in the 'Verse debuted from Titan Books in Spring 2016. She is the developer for Hunter: the Vigil and Cortex Plus Action roleplaying games, and continues to work on new releases.
When she's not obsessing about deadlines, she designs jewelry and dabbles in other artistic endeavors. For more about Monica, visit www.mlvwrites.com.
---
Eddy Webb (with a "y" thank you) is a writer, game and narrative designer, executive producer, and design consultant for video games and RPGs. He has worked on over a hundred products, including some based on Futurama, Firefly, Red Dwarf, the WWE, Vampire: The Masquerade, and Sherlock Holmes. His career spans over a decade and across dozens of respected companies, and he's even won a few awards along the way.
Today he lives a sitcom life in Atlanta, Georgia with his wife, his roommate, and a sleepy old pug. More information and mad ramblings can be found at eddyfate.com.