True Dungeon 2019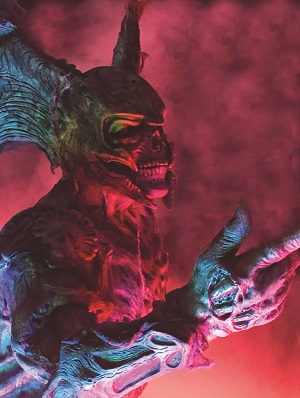 True Dungeon is an immersive dungeon crawl experience featuring life-size sets and dramatic lighting and sound. Players move through a series of rooms, solving puzzles, engaging in combat, and encountering non-player characters portrayed by live, costumed actors.

This year, True Dungeon presents its most immersive and exciting adventures to date with the release of three E-series (Evil Realms-themed) interactive games. Players will venture through a murky swamp (E1), a ruined temple (E2), and an infernal lava cavern (E3) on a quest to stop an evil Mind Slayer from transacting vile deeds.
Note: True Dungeon tickets are very popular; slots sell out quickly once Event Registration opens.
Look for TDA events in the Event Catalog for more details!
---
2019 Events
E1 – Abyssal Swamp (1 of 3)
Travel through a dark swamp and earthen tunnels to find the entrance to a lost temple. Team-oriented challenges of puzzles and simulated combat must be overcome to emerge victorious.
E2 – Path of Death (2 of 3)
Enter a lost temple of a death cult to find a dark portal to the Underworld where you must overcome perplexing puzzles and fearsome monsters.
E3 – Infernal Redoubt (3 of 3)
Infiltrate a dark realm to locate and defeat an unspeakable evil bent on ill deeds while facing challenging puzzles and otherworldly monsters.
Odin's Redux
A great intro dungeon for new players. Venture across the Astral Plane, a frozen wilderness and into a cursed temple of Odin. Only the provided 10-pack of free tokens can be used.
True Grind
A combat hackfest; familiarity with TD's combat system required! For the first time, spectators can watch as top players with awesome gear take on the fiercest of foes. Watch all the fun while high-powered tokens fly down the combat board.
True Dungeon University Seminars
The old-time TD fan group "Dungeon Delver's Anonymous" will present several seminars targeted toward new players – and those who want to get the most out of their adventures. New players should attend "True Dungeon 101" before their first adventure.