Exhibitor Information
The Gen Con 2019 Exhibit Hall featured a record-breaking 530+ exhibitors! You can view the Exhibit Hall map using either the downloadable PDF or the interactive convention map. You can also find your favorite exhibitor with the searchable Exhibitor List.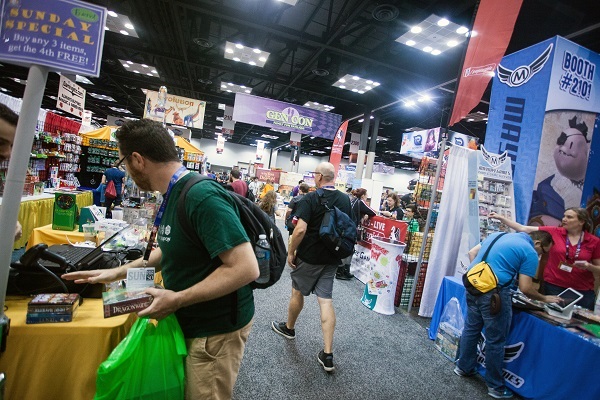 Exhibit Hall hours:
Thursday – Saturday: 10 am – 6 pm
Sunday: 10 am – 4 pm
Sponsorship & Marketing Opportunities
Gen Con has a wide range of marketing and sponsorship options available, and you do not need to be an exhibitor to take advantage of these opportunities. Please browse the Gen Con 2020 Sponsorship & Marketing Booklet to review our many product options. If you have questions or would like to book any marketing or sponsorships, please contact [email protected].
---
Interested In Exhibiting at Gen Con?

2020 Exhibitor Applications are being accepted now through Wednesday, November 20. Completed applications must be emailed to [email protected] by that date for consideration. To be fair to companies who submitted their applications on time, any late, incorrect, or incomplete applications will be rejected. You will receive a confirmation of receipt within two business days of submitting your application.
First-Time Exhibitors

If you have never had a booth in the Exhibit Hall at Gen Con, you will be completing the application for Entrepreneurs' Avenue. This is a dedicated section of the Exhibit Hall held aside specifically for first-time Gen Con exhibitors, even if you are an established company. These booths are at a discounted rate of $1,500. The rest of the hall is already sold out, so this is your only opportunity to apply to exhibit at Gen Con.
You are applying for a single 10'x10' inline booth only. There will be 36 companies accepted into the show, with six of those receiving a complimentary upgrade to a 10'x20' endcap as part of a Marketing Fellowship. These six companies will be selected from the applications, and you may not apply directly for those positions or anything larger than a 10'x10' booth.
Selection Process
I will be working to curate a diverse selection of exhibitors for Entrepreneurs' Avenue. Selections are made through a juried process based on your completed application - not first-come, first-severed. Please be thorough in your application and include booth pictures and your website, as these are very helpful.
The key points I am looking for are: company appeal to our core demographic (tabletop gamers), preparedness for the scale of Gen Con (200,000+ turnstyle attendance), and proposed booth display.
To set expectations, I anticipate several hundred companies vying for these 36 spots, and decisions are made solely from your application. If you are not accepted into Entrepreneurs' Avenue this year, you will be added to the general wait list.
Selection results will be sent between December 1-20.
Returning Exhibitors
If you have had a booth in the Gen Con Exhibit Hall in the past (this does not include First Exposure Playtest Hall, running events, or renting event space), please email [email protected] for application instructions.
Artists
If you are an artist who would like to apply for a table in the Art Show instead of a booth in the Exhibit Hall, please visit gencon.com and look for 'Art Show' under 'Exhibit'. If, after reading all the documentation, you still have questions about the Art Show, please email [email protected].
Deposits
You must include deposit information in your application, however deposits will only be processed if you are accepted into the show.
Rules and Regulations
By applying to exhibit at Gen Con, you have read, understand, and agree to all Exhibitor Rules & Regulations.
---
If you have questions, please contact [email protected] or call:

LeMar Mattox, Exhibit Hall Manager

(206) 957-3976 x3812
Megan Culver, Senior Director, Sponsorship & Sales
(206) 909-3383