Events: How To For EOs & GMs
The information herein is our one-stop spot for Event Organizers and Gamemasters on how events will run during Gen Con Online. It is advised to read through this information from top to bottom in order to get a sense of the flow and a complete understanding of the process. This information is based on using a computer and the web interface to host your events.
---
Overview
All events are in Eastern time zone; Set your alarms accordingly!
All events are electronically ticketed. There are no generic tickets.
The Event Details page is where you will be managing all aspects of your event.
You will need to be signed in to your Gen Con account.
It is recommended that you review our attendee facing Events Tome Of Knowledge page to understand how events will work from the player perspective.
---
How To Get To Your Event(s)
There are several ways in which to access your events depending on whether you are the Event Organizer (EO) or Gamemaster (GM) for the event.
EO Only


An EO / GM Dashboard button can be seen in the left side of the screen.
Only the EO, the person who submitted the event, is able to see this button.




GMs & EOs
There are two ways in which you can access the Event Details page for your event.

Find Events — Search for a specific event using the Game ID through the Find Events tool. Click on the event title and you will be taken to the event details page.




My Schedule — View your entire schedule from the My Schedule section of your Home page after signing into your Gen Con Account.
Click on your name in the upper right corner to get your Home page and scroll to the My Schedule section.
This section will show events you are hosting as well as events you have signed up for.





Events you are hosting will show the EO/GM icon to the left of the title.
Events are displayed in alpha order by title and then start time and day.
Click the title of the event to be taken to the Event Details page.
---
Event Details
The Event Details page is where you will manage all aspects of your events, including messaging to your attendees and ticket collecting.
Look for the ribbon navigation at the top of the Event Details page in order to manage aspects of hosting your event.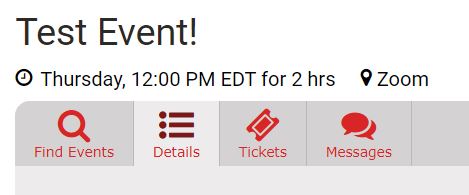 ---
Event Messaging Tool
A new feature for Gen Con Online where you the event host and/or gamemaster will share platform logins, direct links, and/or any other information needed to get your event started. Attendees will be able to use this tool to ask any questions as well.
Each event will have its own message board.
Click the Messages button to be taken to the event's message thread.





The Message to Registered Players you submitted with your event will be pinned at the top of the thread.
The EO, GM and Ticket Holders will receive an email when messages are added using this interface.

To unsubscribe from receiving the specific event emails, click the "unsubscribe" button in the ribbon.

It is advised to explore this tool prior to the start of your event to familiarize yourself with all of its functionality.
Check your event messages at least 10-15 minutes prior to the event, to account for any technical issues or questions.
Note: This tool is only for the purpose of organizing and coordinating with your registered players. Spam messages, requests for personal contact information, or other non-related messages is prohibited. Gen Con's anti-harassment policy and Code Of Conduct apply at all times. Anyone abusing this tool and/or our policies should be reported to Gen Con staff immediately via email to [email protected] and [email protected].
---
Event Attendees / Collecting Tickets
Clicking the Tickets button from the ribbon will take you to the Ticket page for the specific event.

This page will display a list of all Ticket Holders who are registered. A ticket icon will appear to the right of their name.




Collecting Tickets

At the start of your event, be sure to collect tickets from your attendees.

You will not receive credit for player attendance if tickets are not collected.
All payments are based solely on tickets collected, not tickets sold or maximum players - no payments will be issued for events that do not have reconciled tickets.

Attendees are responsible for turning in their ticket to you through the "Give ticket to event host" button displayed on their Events Details page.
This button will appear 30 minutes prior to the start of the event. Only the ticket holder will see this button.
The ticket icon on the Tickets page will change to a green check mark "✔" to indicate that the player has turned in their ticket.
---
How To Sell / Oversell Tickets To Your Event
There are no generic tickets for Gen Con Online. Instead Issue a Ticket to someone interested in joining your event.
At the top of the Events Details page, in the top ribbon is the Issue Ticket button. This will allow EOs/GMs to issue tickets to attendees for the event.
This function will be accessible 30 minutes before the start of the event through the end time of the event.





Enter the username of the potential ticket recipient. The username is associated with their Gen Con Account.
The attendee must be signed into their Gen Con Account.
Once the ticket has been issued, the ticket will appear in their cart and an email notification sent.
The attendee must complete the purchase before the ticket expires from their cart.
If you don't see their name listed under Ticket Holders for the event, they have not completed the process.
Remember they must "Give ticket to event host" as well. If you let them play your event without this steps completed you will not be credited with their attendance and may not receive payment for their participation.
Overselling your event will prompt the system to warn you that you are doing so, this is just an alert message.




---
Looking For Players
If you're looking for players for your event, check out the Gen Con Online Discord server. There will be a #looking-for-players channel under Events just for this purpose.
Use this when you are trying to fill seats for events starting within the hour, not soliciting for players days before.
You will need an account in Discord in order to access this information.
Our Discord server will launch the week of Gen Con Online.
---
Support / How To Get Help
There are several ways in which to contact us during Gen Con Online depending upon what kind of support you need.
Gen Con Online Discord
#gm-hq – This channel is for EOs/GMs who need assistance with all aspects of running your event. This channel will be monitored by Gen Con Events staff.
Platform Support channels – There are specific channels for (some) of the third-party platforms being used. Ask for help from the Gen Con community and representatives from these platforms if you have technical issues.
Events Email
EOs/GMs can email,

[email protected]

to communicate things including cancellations, non-time sensitive assistance, and any other general events help.
This inbox will be monitored by Gen Con Event staff periodically throughout Gen Con Online. Response time may vary.
---
Event Ticket Refund Policy
Gen Con Online attendees can refund their own electronic ticket(s) from their "My Transactions" page up to 30 minutes prior to the start of their event.
If attendees have technical issues and are not able to participate in an event instruct them to email

[email protected]

within 15 minutes of the start of the event to request a refund. They are to include Event ID, their Account ID, and the specific technical issue.
For all of our refund policies for Gen Con Online, check out our FAQ.
---
Ready, Set, Go!
There is lots of additional information and recommendations for you in preparation for running events. Please refer to our Best Practices page as well as our Host page. Of course if you have any questions, please email us as well.