E-Ticketing Information for Event Organizers
Electronic Ticketing (E-Ticketing) is how Gen Con is leveling up the event-ticketing experience for Event Organizers (EOs) and attendees with a convenient and streamlined new process. When an attendee registers for an e-ticketed event, their ticket is electronically associated with their Gen Con account. Instead of collecting paper tickets, an EO for an e-ticketed event simply scans the badge of a registered attendee to redeem their ticket!

New for 2020: EOs can now request electronic ticketing for their events during the event submission process.
Take advantage of this exciting innovation and improve the event-ticketing experience for your events at Gen Con!
What You'll Need

To participate in electronic ticketing as an EO, you'll need:
A late-model iOS or Android phone with the Gen Con mobile app installed.
And/or a computer with a USB barcode scanner capable of scanning Code39 barcodes. To make sure your scanner will work, please use the Barcode Test page.
Free Wi-Fi is available in the ICC Event Halls, Stadium, and some area hotels.
The Gen Con mobile app can redeem e-tickets when internet access is slow or temporarily disrupted but will need to be connected in order to sell tickets.
How It Works
E-tickets are purchased the same way as paper tickets. But instead of being printed, mailed, collected, and then returned, an e-ticket is stored electronically in the attendee's account and is associated with their Gen Con badge. You, as EO, admit attendees to your events by scanning their badge rather than collecting paper tickets.
For more information on how this works in application, there is a training webinar from 2019 available on our YouTube channel. Both web and mobile interfaces are explained along with info including the most common scenarios you may experience at the convention. This video will be updated this spring with the 2020 interfaces.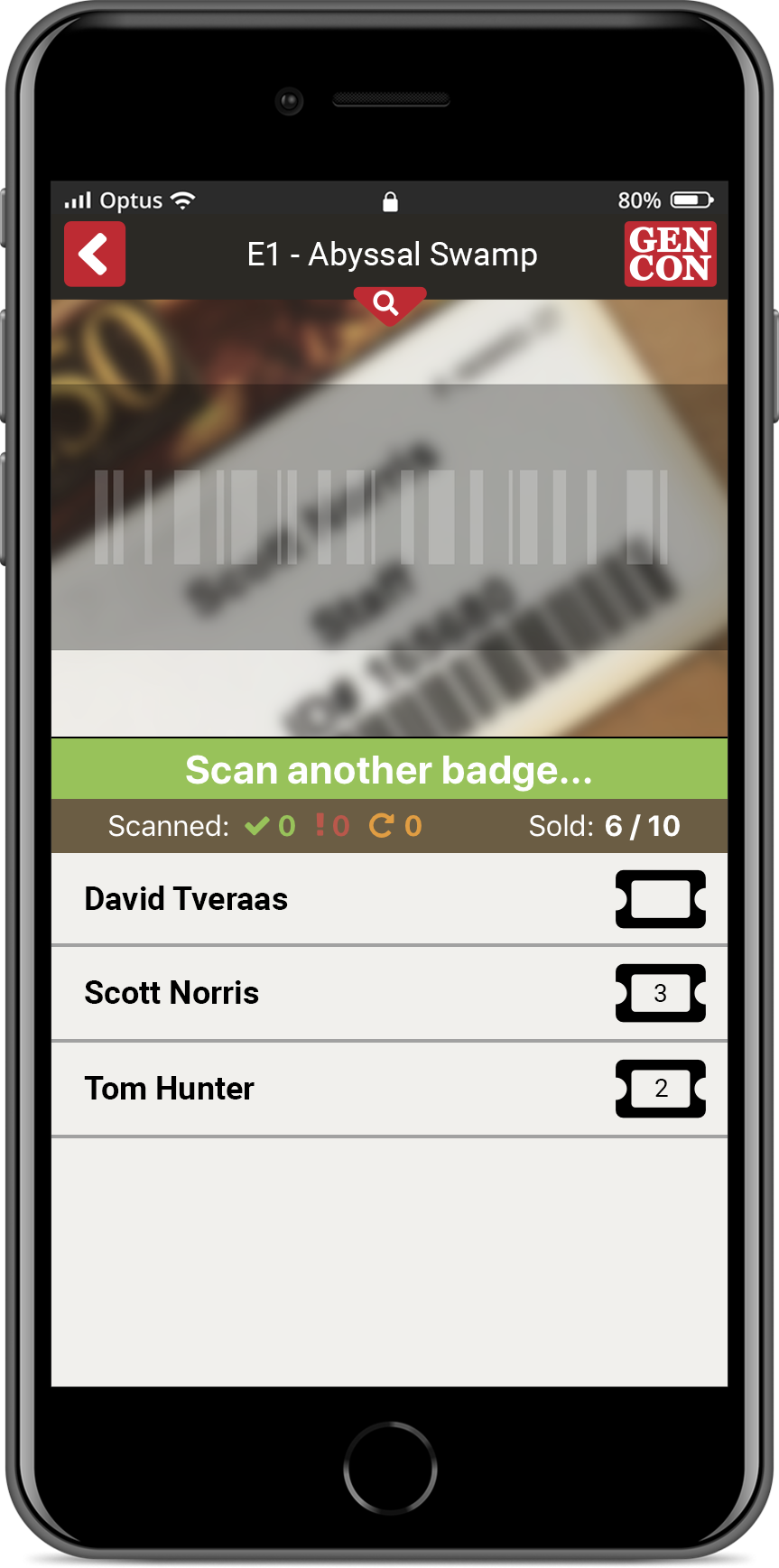 How Will It Affect You and Your Hosting Experience?
Scanning badges is quick — it only takes a few seconds — but will require a little more time than collecting paper tickets. Having multiple E-Ticketmasters (GMs & others assisting you) scan badges makes the process faster and is recommended if you have a lot of attendees and/or a lot of events happening at the same time. In order for an E-Ticketmaster to scan badges for an event, they will need to be listed as an GM in the Gamemaster field on the Event Submission Form.
How to Register
In order to have your events approved for electronic ticketing, you'll need to:
Fill out an E-Ticketing Certification Request Form. This form will help demonstrate that you are prepared for E-Ticketing and allow us to validate requests for your events. EOs who do not fill out a form will not be able to have e-ticketed events. You only need to fill out this form once for all of your events.
Select "Electronic" as the ticketing method on the Event Submission Form for each event you want to be e-ticketed.
Add all E-Ticketmasters (GMs & others assisting you) as GMs in the Gamemaster field for each of your events. This will enable access for your E-Ticketmasters to scan badges for your event(s). Individuals who are not listed as GMs will be unable to scan badges from their account.
How to Prepare
To prepare your E-Ticketmasters, Gen Con will provide the following:
On-site Training — Wednesday, 7/29
On-site support team
You will be responsible for educating your E-Ticketmasters on the appropriate information, training, tools, etc. for a successful on-site experience.
Additional Benefits for EOs
Sell tickets to eligible attendees
Issue complimentary tickets/oversell your event to replace attendees who don't show
Access real-time event attendance data
E-Ticketmasters can use the same account and/or scan for the same event at the same time
No organizing and returning tickets after your event
Can still accept paper tickets from other events or generics as before (but you'll need to collect and turn in those tickets in at conclusion of your events)
More Info
For more information about the program, please refer to our E-Ticketing FAQ or email [email protected].