Events Tome of Knowledge
Welcome to the Events Tome of Knowledge, wherein you the player will find all things events-related for Gen Con Online!

If you're looking for events, search Find Events. For suggestions on how to best use this tool, check out the Searching the Event Catalog section of our How to Find Events page.
Our Show Highlights page is a great place to find information on some of our key events like the Costume Contest, Film Festival, and First Exposure Playtest Online, just to name a few. We'll be adding more event information to this page so be sure to check back often!
Start Here
Whether you are a Gen Con event sage who has weathered many seasons of event adventures, or if you're making your first foray into events at Gen Con, here are a couple of Q&As that we thought might be helpful:
What is an Event?

Events make up a large part of the Gen Con experience. Events are hosted by individuals, gaming groups, and companies. Events are scheduled for specific dates and times so you can schedule your participation experience and not miss a moment waiting!

Events run the gamut from RPGs, card games, and board games, to seminars, workshops, and everything in between. There are tours and entertainment events, big and small, too. We even have events being hosted in other languages such as Portuguese, Russian, Spanish, and French! Gen Con has something for everyone.

How Do Tickets Work?

Having a ticket to an event allows you access to that event. Tickets cannot be obtained for another event at the same time, meaning you can't buy a ticket to two events that are being hosted at the same date/time.

You can obtain one ticket for yourself for any event! All events are electronically ticketed, but instead of being associated with your badge as they are in Indy, for Gen Con Online they are associated with your Gen Con account.
---
How It All Works
We have lots of information to share with you regarding how events will work for Gen Con Online. This information is based on you using a computer and the web interface. Grab your bag of holding, here we go!

General Info
Events start on Thursday at 12 pm and end on Sunday at 8 pm. This is a different timeline for Gen Con Online.
You must have a free Gen Con Online badge in order to participate in events.
All events are in Eastern time zone; Set your alarms accordingly!
For information on How To Find Events, click here.
Every event lists the platform(s) that the event will be taking place on, so you know what you will need and how you'll be participating.

Be sure to sign up for the platform(s) your event is on well in advance of the event; make time to familiarize yourself with the system and any downloads or updates in advance.
You can view all the events you have tickets for, in the My Schedule section on your Home page of your Gen Con Account. You must be signed in to be able to see this.
---
Before Your Event
Here are step-by-step instructions on how events will run for Gen Con Online:
Sign in to your Gen Con Account.
Go to your Home page, by clicking your name in the upper right corner.
From the My Schedule section, select the event title from your list that you are attending.




Clicking the title will bring up the events detail page. From this page you will be able to message the event host/gamemaster using the Event Messaging Tool and turn in your ticket.
Event Messaging Tool: A new feature for Gen Con Online where the event host/gamemaster will share platform logins, direct links, and/or any other information needed to get your event started. You will be able to use this tool to ask the gamemaster any questions you may have regarding the event as well.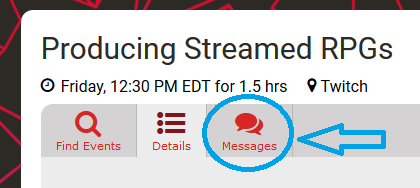 Clicking the button will show you the event's message thread.
Ticket Holders will receive an email if/when the Event Host or Gamemaster adds messages using this tool.
You will not see the button if you do not have a ticket in your cart, have refunded the ticket, or purchased a ticket for someone else.
Check your event messages at least 10-15 minutes prior to the event, to account for any technical issues.
Note: This tool is only for the purpose of organizing and coordinating with your event host. Spam messages, requests for personal contact information, or other non-related messages is prohibited. Gen Con's anti-harassment policy and Code Of Conduct apply at all times. Anyone abusing this tool and/or our policies should be reported to Gen Con staff immediately via email to [email protected] and [email protected].
You will need to give your electronic ticket to the event host at the start of your event so your event host knows you are there and gets credit for your attendance. Do this at the start of your event.
A "Give ticket to event host" button will appear at the top of the ticket selection sidebar on the event details page:



This button will appear 30 minutes prior to the start of the event.
Only the ticket holder will see this button. Only click it once. Once clicked, your ticket is redeemed and the button will change to read, "you've attended."



---
During Your Event
Taking the Gen Con events experience online is new for all of us, and we're all adapting to different formats and technologies, so please practice patience with everyone involved.
Remember to: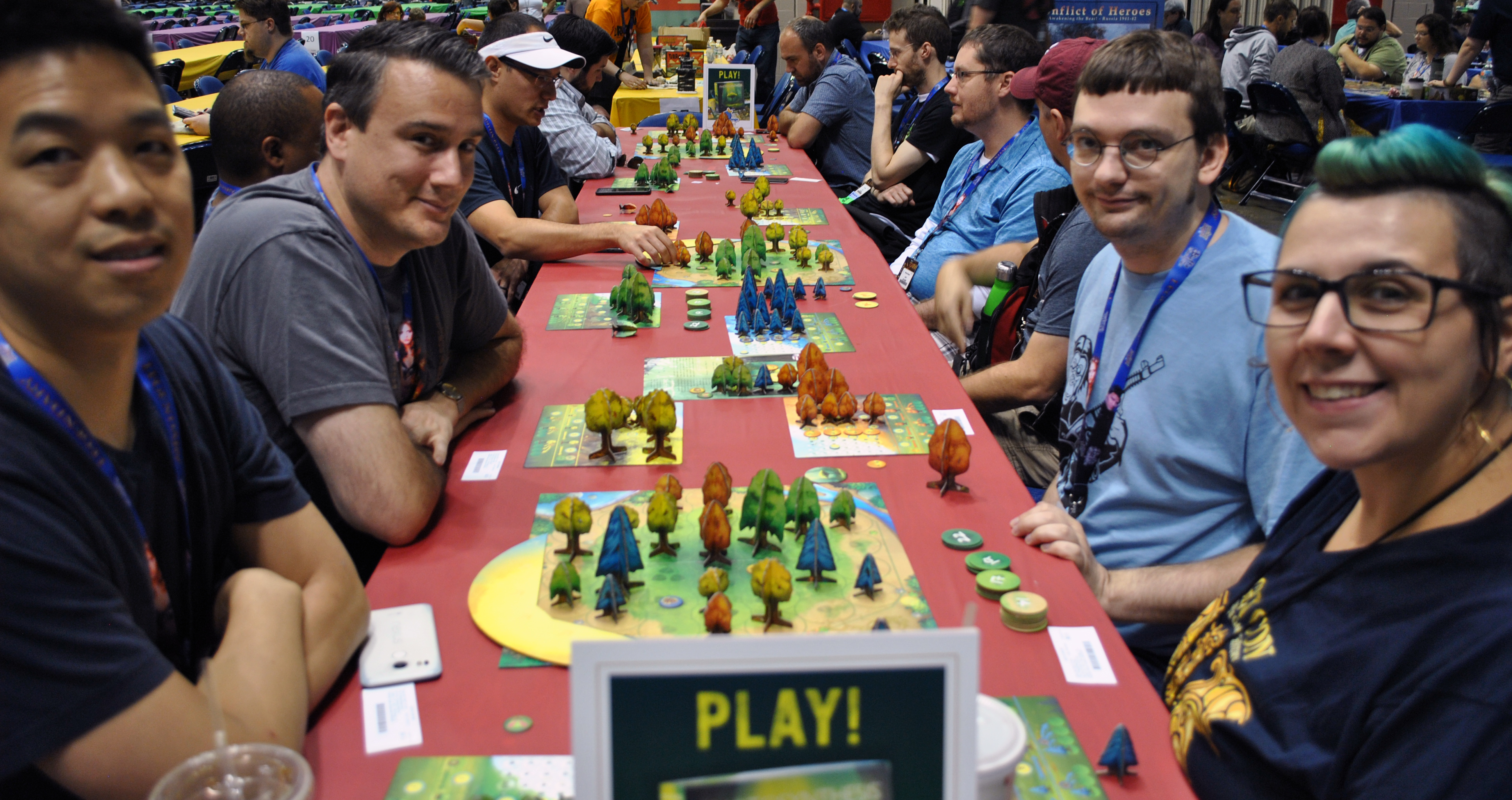 Roll some dice.

Make new friends!

Have fun!
---
Run Into Trouble?
Technical Problems
If you are having technical problems or need help configuring something, try asking for help from the Gen Con Community in the Platform Support section in Gen Con Online's Discord, someone there may be able to assist. There are specific channels for (some) of the third-party platforms being used; representatives from (some) of these channels may be present to assist.
You will need an account in Discord in order to access this information.
Our Discord server will launch the week of Gen Con Online.
Refunds
You can request refunds for various reasons, please refer to our FAQ for specifics.
NOTE: Requests for Gen Con Online ticket refunds must be sent to [email protected] no later than Monday, August 3, at 12 pm (Eastern); requests received after that time will not be processed.
Refunding Your Own Ticket(s)

You can refund your own electronic ticket(s) from your My Transactions page up to 30 minutes prior to the start of your event.
Your My Transactions page is in the drop-down menu when you hover over your name in the upper right.
Once on that page, look for the specific ticket you want refunded. There are different date sections based on when you purchased your ticket.
Click the red "Return Tickets" button on top of the specific section where the ticket you want to refund is listed.
A new page will appear. Check the box next to the ticket you want to refund and follow the remaining prompts.
Refunds through this method will go back to system credit only. System credit can not be refunded. It will remain in your account and can be used for any future ticket or badge purchase.
Transferring a Ticket to Another Attendee

You can transfer a ticket on the event details page for the event. Click the "Transfer Ticket" button under the "Add selected tickets to cart" button you used to buy the ticket.
You can then select anyone you have added to your Family & Friends list to transfer the ticket to. They must have a badge and a corresponding opening in their schedule to receive the transferred ticket.
Tickets can only be transferred until 30 minutes prior to the event's start time.
Gen Con Online FAQ
Check out our FAQ for answers to other common questions.
---
Prepare for Adventure
Sign up for the platform your event is on well in advance of the event; make time for downloads and to familiarize yourself with the system.
Know how to mute your microphone and do so when not actively participating in your game.
Check for any software or platform updates you are using the day before your event; check again at least an hour before your event starts; unexpected updates can delay your start time.
Sign up for Discord well in advance of your event; you'll be able to use it to find an alternate event should your event not take place, and you may be able to find help with technical issues as well.
Remember that the ticket holder, not the ticket purchaser, needs to check in for the event. Check in using the button on the event details page, so the GM knows you are logged in.
You may only purchase one ticket for yourself, and one ticket for each friend; you cannot buy more than one ticket per badge.
Check all of your hardware, including your microphone, video camera, and headphones the day before your event.
Be prepared for technical issues which may delay the start of a game or lengthen the duration; be patient with other players that have technical issues.